STEADY THERE! I DON'T THINK IT'S VERY FAIR...

The Epic Rap Battles of History Patreon has potentially shared information relating to this page. Please respect the ERB crew's wishes not to share information gained from the Patreon.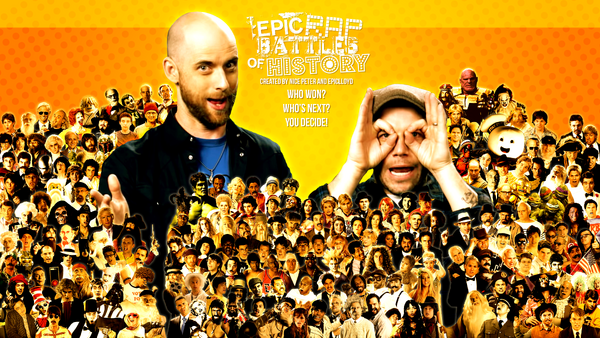 The Epic Rap Battles of History series contains many different characters, whether they be real or fictional.
Below is the list of characters who have appeared in the official Epic Rap Battles of History series. This includes both main characters and cameos.
In some battles, the characters transform into different versions of themselves (examples: Gandalf, the Doctor, Goku), and sometimes they simply change outfits throughout (examples: Chuck Norris, Lady Gaga, Justin Bieber).
Official characters
Rappers
Cameos
John McCain (EpicLLOYD)
Johann Sebastian Bach (EpicLLOYD)
Carl Sagan (EpicLLOYD)
Genghis Khan's descendants, from New York (Jon Na)
Genghis Khan's descendants, from Japan (Jon Na)
George Washington

George Washington, in regular 18th century outfit (Pat McIntyre)
George Washington, in 18th century soldier outfit (Nice Peter)

Gilderoy Lockhart (Pat McIntyre)

Gilderoy Lockhart, with pink scarf

John "Hannibal" Smith (EpicLLOYD)
H. M. "Howling Mad" Murdock (EpicLLOYD)
Templeton "Face" Peck (EpicLLOYD)
Mr. McFeely (EpicLLOYD)
Hikaru Sulu (Jon Na)
Macho Man Randy Savage (EpicLLOYD)
Chuck Norris (EpicLLOYD)

Chuck Norris in Walker, Texas Ranger outfit
Chuck Norris, in martial arts outfit

Genghis Khan (EpicLLOYD)
Gandalf the Grey (EpicLLOYD)
Napoleon Bonaparte (EpicLLOYD)
Adolf Hitler (EpicLLOYD)
Thing 1 & 2 (EpicLLOYD)
John Lennon (Nice Peter)
Cat in the Hat (Nice Peter)
Stephen Hawking (Nice Peter)
Hulk Hogan (Nice Peter)
Abe Lincoln (Nice Peter)
Bill O'Reilly (EpicLLOYD)
Ludwig van Beethoven (Nice Peter)
KassemG

Kassem G, in regluar t-shirt and pants
KassemG, in ugly hag suit and fedora

Mario (EpicLLOYD)
Luigi (Nice Peter)
King Henry VIII (Shay Carl)
Master Chief (Nice Peter)
Spartans (Dante Cimadamore and Gabe Michael)
Pleistarchus (EpicLLOYD)
Jermaine Jackson (Bentley Green)
Tito Jackson (Bentley Green)
Marlon Jackson (Bentley Green)
Jackie Jackson (Bentley Green)
Tootie Ramsey (Bentley Green)
Marlon Brando (EpicLLOYD)
John F. Kennedy (Nice Peter)
Marty McFly (EpicLLOYD)
Mustached Cowboys (Nice Peter)
Steve (Nice Peter)
Indian Independence March Extras (Dante Cimadamore, Atul Singh, Jose Molina, Rafael Serrano, Abisai Flores, and Brian Fisher)
White Preacher in Indian Independence March (Nice Peter)
Civil Rights March Extras (Nikki Jenkins, Davina Friedlander, Ifechukwude Nwadiwe, Rique Castilloveitia, Nic Parris, Clarence L. Gaines IV, and Donnie McMillin)
White Preacher in Civil Rights March (EpicLLOYD)
Leonidas (Jesse Wellens)
The Fourth Doctor (George Watsky)
Lando Calrissian (KassemG)
Edward Kenway (Xin Wuku)
Gangsters (Shaun Lewin, Yev Belilovskiy, and Dante Cimadamore)
Pirates (Bryce Wissel, Shaun Lewin, and Donnie Davis)
Miley Stewart (Nice Peter)
Lilly Truscott (EpicLLOYD)
Mister Rogers (Nice Peter)
Billy Mays (Colin J. Sweeney)
Walkers (Neil Blan, Ray Timmons, Amy Bury, and Tom Walsh)
Jimmy Olsen (Nice Peter)
Krillin (Nice Peter)
Americans (Jack Zullo, Mike Elder, and Jeff MacKinnon)
Scotsmen (Reynaldo Garnica, Seth Brown, and Joey Greer)
Loki (EpicLLOYD)
Odin (Lego Minifigures)
Brokkr (Lego Minifigures)
Medusa (Lego Minifigures)
Dane Cook (Lego Minifigures)
Minotaur (Lego Minifigures)
Poseidon (Lego Minifigures)
Frost Giant (Lego Minifigures)
Natalie Portman (Lego Minifigures)
Athena (Lego Minifigures)
Ares (Lego Minifigures)
Dionysus (Lego Minifigures)
Hades (Lego Minifigures)
Aphrodite (Lego Minifigures)
Vikings (Lego Minifigures)
Stedman Graham (Atul Singh)
Dr. Phil (EpicLLOYD)
Socrates (EpicLLOYD)
Billy the Kid (Nice Peter)
Joan of Arc (Jessi Smiles)
Criss Angel (Dante Cimadamore)
Roman Soldiers (EpicLLOYD)
Animators (Mary Doodles)
Street Toughs (EpicLLOYD, Dante Cimadamore, Forrest Whaley, and Edward Vilderman)
Rebel Soldiers (Nice Peter and EpicLLOYD)
Mikey Walsh (EpicLLOYD)
Daenerys Targaryen (Ceciley Jenkins)
Human Warrior (Joey Greer)
Orc (Joey Greer)
High Elves (Sulai Lopez and Shaun Lewin)
Jimmy Page (Dante Cimadamore)
John Paul Jones (Dante Cimadamore)
John Bonham (Dante Cimadamore)
Gordon Ramsay's Production Team (Michelle Maloney, Layne Pavoggi, Yev Belilovsky, Ceciley Jenkins, and Jay Houn)
Blue Team (Dante Cimadamore, Mike Betette, Sulai Lopez, and Felicia Folkes)
Marilyn Monroe (Kimmy Gatewood)
Babe Ruth (EpicLLOYD)
Ben Franklin (EpicLLOYD)
Barack Obama (Alphacat)
Thomas Edison (EpicLLOYD)
Clint Eastwood (EpicLLOYD)
Elvis Presley (EpicLLOYD)
Manny Stixman (Dante Cimadamore)
Go-Go Dancer (Sulai Lopez)
Rasputin (Nice Peter)
Joseph Stalin (EpicLLOYD)
Vladimir Lenin (Nice Peter)
Mikhail Gorbachev (EpicLLOYD)
Vladimir Putin (Nice Peter)
Pompey the Great (Mike Bettete)
Jessie (Mary Doodles)
James (Dante Cimadamore)
Ash Williams (EpicLLOYD)
The March of Progress (Dante Cimadamore)
Batman (Nice Peter)
Yolanda Simmons (Lilly Singh)
Melody McCulley (Lilly Singh)
Karen Millard Morris (Lilly Singh)
Stevie Wonder's unidentified fourth partner (Lilly Singh)
Tomeeka Robyn Bracy (Lilly Singh)
Aisha Morris (Lilly Singh)
Keita Morris (Lilly Singh)
Mumtaz Morris (Lilly Singh)
Sophia Morris (Lilly Singh)
Kwame Morris (Lilly Singh)
Kailand Morris (Lilly Singh)
Mandla Kadjay Carl Stevland Morris (Lilly Singh)
Zaiah Morris (Lilly Singh)
Nia Morris (Lilly Singh)
Bobby Orr (EpicLLOYD)
Thomas Jefferson (Nice Peter)
Jon Na
Josh Best
Javi Sánchez-Blanco
Atul Singh
Shaun Lewin
Morgan Christensen
Sulai Lopez
Dante Cimadamore
Harry Houdini (EpicLLOYD)
Dianne Feinstein (EpicLLOYD)
Jean-Luc Picard (EpicLLOYD)
Jason Voorhees (Atul Singh)
Edward Scissorhands (Nice Peter)
J. P. Morgan (EpicLLOYD)
Abandoned Kid (Atul Singh)
R. M. Renfield (Morgan Christensen)
Justice League (EpicLLOYD, Nice Peter and Lilly Singh)
Russian Hackers (Nice Peter and EpicLLOYD)
Porpentina Goldstein (Lego Minifigures)
Ron Weasley (Lego Minifigures)
Hermione Granger (Lego Minifigures)
Dean Thomas (Lego Minifigures)
Luna Lovegood (Lego Minifigures)

Luna Lovegood, in her causal clothes and goggles

Draco Malfoy (Lego Minifigures)

Draco Malfoy, in his Seeker outfit

Remus Lupin (Lego Minifigures)
The Trolley witch (Lego Minifigures)
Alastor Moody (Lego Minifigures)
Lucius Malfoy (Lego Minifigures)
Owen and Beru Lars (Lego Minifigures)
Rubeus Hagrid (Lego Minifigures)
Neville Longbottom (Lego Minifigures)
Cho Chang (Lego Minifigures)
Snoke (Lego Minifigures)
Darth Vader (Lego Minifigures)
Conan Antonio Motti (Lego Minifigures)
Ginny Weasley (Lego Minifigures)
Severus Snape (Lego Minifigures)
Molly Weasley (Lego Minifigures)
Dusty Bin (Lego Minifigures)
Tusken Raiders (Lego Minifigures)
gonk droid (Lego Minifigures)
Han Solo (Lego Minifigures)
Chewbacca (Lego Minifigures)
Leia Organa (Lego Minifigures)

Slave Leia Organa
Leia Organa, in her Endor celebration outfit

R5-D4 (Lego Minifigures)
WED-15-ST68 (Lego Minifigures)
Jawas (Lego Minifigures)
R1-G4 (Lego Minifigures)
Vernon Dursley (Lego Minifigures)
Petunia Dursley (Lego Minifigures)
Dudley Dursley (Lego Minifigures)
R2-D2 (Lego Minifigures)
Obi-Wan Kenobi (Lego Minifigures)
Dumbledore (Lego Minifigures)
Yoda (Lego Minifigures)
Dementors (Lego Minifigures)
Sirius Black (Lego Minifigures)
Bith (Lego Minifigures)
Death Eaters (Lego Minifigures)
Jar Jar Binks (Lego Minifigures)
J. K. Rowling (Lego Minifigures)
J. J. Abrams (Lego Minifigures)
Sith trooper (Lego Minifigures)
Stormtroopers (Lego Minifigures)
Emperor Palpatine (Lego Minifigures)
C1-10P (Lego Minifigures)
Lucian Bole (Lego Minifigures)
Dobby (Lego Minifigures)
Sybill Trelawney (Lego Minifigures)
Minerva McGonagall (Lego Minifigures)
C-3PO (Lego Minifigures)
Fred and George Weasley (Lego Minifigures)
Newt Scamander (Lego Minifigures)
Jacob Kowalski (Lego Minifigures)
Griphook (Lego Minifigures)
Lord Voldemort (Lego Minifigures)
Fenrir Greyback (Lego Minifigures)
Wicket W. Warrick (Lego Minifigures)
Logray (Lego Minifigures)
Teebo (Lego Minifigures)
Chief Chirpa (Lego Minifigures)
Selena Gomez (Lego Minifigures)
Lando Calrissian (Lego Minifigures)
Bellatrix Lestrange (Lego Minifigures)
Amazon workers (Atul Singh and Nice Peter)
Captain Kirk (EpicLLOYD)
Sam Trautman (John Best)
Minor appearances
Nazi Rage Baby
Person who attacks Chuck Norris (arm only)
Ninjas who attack Chuck Norris
Yorick's skull
Audience in the Macworld Expo
Person who throws microphone towards Freddie Mercury (arm only)
Person who carries the TARDIS (hand only)
People who speak during the Tenth Doctor's interlude (offscreen)
Ronald Reagan (arm only)
Ronald McDonald (arm only) (Atul Singh)
Person/People who shoots Bonnie & Clyde (offscreen)
Women with the Minotaur and Poseidon
People in the bar
Greek people
The ghost at the end of Jack the Ripper vs Hannibal Lecter
People who throw Bill & Ted their guitars (offscreen)
Audience in New York City
Spider-Man in the comic book store
Female silhouettes in the James Bond title sequences
Person who shakes the cup of martinis next to James Bond (hands only)
People who chant at the beginning of Frederick the Great's verse (offscreen)
People who cheer in the later half of Donald Trump's verse and in the outro of Donald Trump vs Hillary Clinton (offscreen)
A Rough Rider soldier's silhouette
Silhouettes of World War II paratroopers
Viewer of Nice Peter vs EpicLLOYD in Nice Peter vs EpicLLOYD 2 (offscreen)
Jarvis, the robot Morgan Freeman (animated drawing)
Two Barbies (Hulk Hogan and Macho Man vs Kim Jong-il re-edit only)
Audience in the sports ring (Hulk Hogan and Macho Man vs Kim Jong-il re-edit only)
Hogwarts students and staff
People at Chalmun's Spaceport Cantina
Fleur Delacour, Viktor Krum, and Cedric Diggory on the cover of Harry Potter and the Goblet of Fire
Star Wars fans at the front of a movie theater
Dump truck driver
People on Diagon Alley
Nice Peter, EpicLLOYD, and Josie Ahlquist on the cover of the magazine
Animal appearances
Sarah Palin's moose
Napoleon Bonaparte's horse
Napoleon Dynamite's liger
Tina the Llama (with Napoleon Dynamite's head)
Fawkes the Phoenix
KassemG's flying wolf
Abe Lincoln's bald eagle (Nice Peter and EpicLLOYD)
Baker Street horses
Moses' doves
The Serpent of Eden
Thomas Edison's dog
Rancor
Crows in Château de Chinon
Pablo Picasso's dog, Lump (Bob the dog)
Crows in the Atlanta Outskirts
Edgar Allan Poe's bats
Cattle on the Isle of Skye
Animals on the roofs of neighboring buildings of the Shandor Building
Birds in Asgard
Athena's Pegasus
Dog on Thor's Viking Ship
Polar bear in Valhalla
T-Rex in Jurassic Park
Michael Bay's eagle
Eagle by the Mississippi River
American Black Bear by the Mississippi River (Mike Betette)
Dove in the David Copperfield vs Harry Houdini outro
Ivan the Terrible's horse gift
Charles Darwin's tortoise
A Rough Rider soldier's horse as a silhouette in Theodore Roosevelt vs Winston Churchill
Walrus dressed as Hulk Hogan (Hulk Hogan and Macho Man vs Kim Jong-il re-edit only)
Steve Irwin's snake
Wallaby in the outback
Crocodile in the outback
Python in the outback
Count Dracula as a bat
Phoenix
Fly on Joe Biden's head
A dead Tauntaun
Owl on Platform 9¾
The Monster Book of Monsters
Birds flying near Hogwarts Castle
Flies in Dagobah
Pickett
Mansa Musa's camel
Unofficial characters
PewDiePie (EpicLLOYD)
T-Series (Nice Peter)
Ronald McDonald (Nice Peter)
The Burger King (EpicLLOYD)
Larry Bird (EpicLLOYD)
Big Bird (Nice Peter)
Speculated characters
Manfred von Richthofen (Red Baron)
Simo Häyhä (White Death)
Taylor Swift
Pablo Escobar
John F. Kennedy
Robin Hood
Lara Croft
Queen Elizabeth I
Sitting Bull
Spider-Man
Borat
Benito Mussolini
Jackie Chan
Tom Cruise
Richard Nixon
Nelson Mandela
Scrapped characters
Nice Peter stated that Abe Lincoln vs Chuck Norris was originally planned to be iPhone vs Blackberry.[1]
According to Nice Peter, Osama bin Laden was originally going to rap alongside Kim Jong-il in Hulk Hogan and Macho Man vs Kim Jong-il, but the idea was eventually scrapped.
In Christopher Columbus vs Captain Kirk, Christopher Columbus' opponent was originally going to be Neil Armstrong, but was later changed to Captain Kirk, as he said Armstrong would be hard to diss.
In Nice Peter vs EpicLLOYD, King Henry VIII was shown as one of the upcoming characters in Season 2, hinting at his battle against Hillary Clinton. However, this battle was eventually scrapped, with the audio being released years later on ERB's website, and a new edit of the original video being posted on the ERB2 channel a few years after the audio's release.
In a video with Smosh Games, EpicLLOYD said that he had a demo for Betty White vs Bettie Page.[2]
Mike Betette said in the wiki's chatroom that Rocky Balboa was planned in Season 2.
God was supposed to make a third-party appearance in Adam vs Eve as confirmed on ERB's Facebook and Twitter, but the idea was scrapped.
Sigmund Freud vs Dr. Phil was a battle that almost happened, but was instead changed into Nikola Tesla vs Thomas Edison. The battle was also planned for the first half of Season 4, but was scrapped for unknown reasons. Dr. Phil would appear as a cameo in that season for Oprah Winfrey vs Ellen DeGeneres, while Sigmund Freud would battle Mother Teresa in Season 6.
According to EpicLLOYD, Tupac Shakur vs Johann Sebastian Bach was really close to happening in Season 4.
Captain Crunch vs Lucky the Leprechaun and Blackbeard vs Jack Sparrow were both ideas for rap battles involving pirates, but instead Blackbeard vs Al Capone was used, according to its Behind the Scenes video.
As stated in the Behind the Scenes video for Miley Cyrus vs Joan of Arc, Miley Cyrus was originally going to battle The Queen of England (presumably Elizabeth II).
In the wiki's chatroom, Peter said that a Salvador Dalí cameo was planned for Bob Ross vs Pablo Picasso, but was scrapped.
According to a podcast from Peter, General Custer vs Crazy Horse came close to happening in Season 4.
At a concert, Lloyd said that Tim Burton was almost in Steven Spielberg vs Alfred Hitchcock.
As seen in a demo during the second Behind the Scenes video for Gordon Ramsay vs Julia Child, Gordon Ramsay was originally going to say, "Oh wait, J. P., drop the bouillabaisse!" instead of, "Alright, fuck it! Blue team, drop the bouillabaisse!" J. P. most likely refers to Jean-Philippe Susilovic, the maître d'on on the American version of Hell's Kitchen.
During a Facebook livestream, Lloyd said that Mel Gibson was planned in a battle against Charlie Sheen, but it was scrapped due to it not being "epic enough".[3]
During another Facebook livestream, Lloyd said Alexander Graham Bell vs Mark Zuckerberg had been written and scrapped.[4]
Peter confirmed that Freddie Mercury was originally going to battle Brüno, Ali G, and Borat, who were all going to be portrayed by Zach Sherwin.
Mat4yo confirmed that Bernie Sanders was originally going to make a speaking cameo appearance in Donald Trump vs Hillary Clinton, and Ronald Reagan was also intended to rap before Abe Lincoln.[5]
Peter confirmed that Erwin Rommel was originally planned to back-up Hitler in Hitler vs Vader 3 and even had some lines written.
On the ERB Patreon Discord, it was confirmed that Edward Scissorhands was meant to be a third-party in Freddy Krueger vs Wolverine, but ended up getting scrapped and was a cameo instead.
On the ERB Patreon Discord, it was confirmed that Kratos came very close to battling Thanos, with them going so far as to order a white muscle suit for him, but he ended up getting scrapped in favor of J. Robert Oppenheimer.
Before settling on the simple 1 vs 1 of the final battle, one version of Donald Trump vs Joe Biden involved Mike Pence (Trump's Vice President) and Kamala Harris (Biden's candidate for Vice President) backing up Trump and Biden respectively, with the battle ending on former Democratic candidate Bernie Sanders flying in on pigeons (as opposed to Abe Lincoln's traditional Bald Eagle) as a third-party rapper. However, this idea was scrapped to avoid overcomplicating the battle, especially in the midst of the ongoing coronavirus pandemic.
iPhone
Blackberry
Osama bin Laden
Neil Armstrong
An executioner
Bill Clinton (EpicLLOYD)
Rocky Balboa
Tupac Shakur
Lucky the Leprechaun
Cap'n Crunch
Jack Sparrow
The Queen of England
Salvador Dalí
General Custer
Crazy Horse
Tim Burton
Mel Gibson
Charlie Sheen
Alexander Graham Bell
Ali G
Borat
Brüno
Erwin Rommel
Kratos
Mike Pence
Kamala Harris
Characters from unofficial battles
In the unofficial Michael J. Fox vs Chucky, Peter and Lloyd impersonated Michael J. Fox and Chucky.
There was another unofficial ERB where Peter impersonates GLaDOS, battling Sherlock Holmes.[6]
There was also a rap battle by Peter and Lloyd in the film, The SpongeBob Movie: Sponge Out of Water, where a dolphin named Bubbles rapped against a seagull.
There was another unofficial ERB where Peter portrayed James Bond and Lloyd portrayed Austin Powers.
There was an unofficial ERB at the Chicago concert of the ERB 2015 Tour where Peter portrayed Salvador Dalí and Lloyd portrayed Kurt Cobain.
There was an unofficial ERB at the NYC concert of the ERB 2015 Tour where Peter portrayed Drake and Lloyd portrayed Bob Marley.
There was an unofficial ERB at the Manchester concert of the ERB 2015 Tour where Peter portrayed James Bond and Lloyd portrayed Jason Bourne.
There were two unofficial ERBs at the Glasgow concert of the ERB 2015 Tour where Peter portrayed Nicola Sturgeon and Rick Astley, and Lloyd portrayed Elizabeth II and John Cena.
There was an unofficial ERB at the Michigan concert of the ERB 2015 Tour where Peter portrayed Betty White and Lloyd portrayed Jar Jar Binks.
There was an unofficial ERB at the London concert of the ERB 2015 Tour where Peter portrayed Leonardo DiCaprio and Lloyd portrayed Eminem.
There was an unofficial ERB at the Liverpool concert of the ERB 2015 Tour where Peter portrayed Charles Darwin and Lloyd portrayed Jesus Christ.
There were two unofficial ERBs at the Outside Lands 2017 concert where Peter portrayed Yoda and Rick Sanchez and Lloyd portrayed Spock and the Joker.
There was an unofficial ERB at the SF Sketchfest 2018 concert where Peter portrayed Andrew Jackson and Lloyd portrayed O. J. Simpson.
Michael J. Fox (Nice Peter) (Although he himself doesn't appear, his character from the Back to the Future trilogy, Marty McFly, appears in Doc Brown vs Doctor Who)
Chucky (EpicLLOYD)
Sherlock Holmes (EpicLLOYD) (although he did appear officially in Batman vs Sherlock Holmes, he was portrayed by Zach Sherwin instead)
GLaDOS (Nice Peter)
Seagull (EpicLLOYD)
Back-up seagulls (Nice Peter, EpicLLOYD, and Paul Tibbitt)
Painty the Pirate (Nice Peter)
James Bond (Nice Peter)
Austin Powers (EpicLLOYD)
Kurt Cobain (EpicLLOYD)
Salvador Dalí (Nice Peter)
Bob Marley (EpicLLOYD)
Drake (Nice Peter)
Jason Bourne (EpicLLOYD)
Nicola Sturgeon (Nice Peter)
Elizabeth II (EpicLLOYD)
Rick Astley (Nice Peter)
John Cena (EpicLLOYD)
Jar Jar Binks (EpicLLOYD)
Betty White (Nice Peter)
Leonardo DiCaprio (Nice Peter)
Eminem (EpicLLOYD)
Charles Darwin (Nice Peter)
Jesus Christ (EpicLLOYD)
Yoda (Nice Peter)
Spock (EpicLLOYD)
Rick Sanchez (Nice Peter)
The Joker (EpicLLOYD)
Andrew Jackson (Nice Peter)
O. J. Simpson (EpicLLOYD)
Thanos (Nice Peter)
Tony Stark (EpicLLOYD)
Carrot Top (Nice Peter)
Archer (EpicLLOYD)
Ozzy Osbourne (Nice Peter)
Gene Simmons (EpicLLOYD)
Jon Snow (Nice Peter)
Conan O'Brien (EpicLLOYD)
ERB News (hosts and special guests)
Leonardo da Vinci (unofficial)
The real Hulk Hogan (special guest/unofficial)
André the Giant (cameo/unofficial)
Danny Trejo (special guest)
Vladimir Putin (cameo)
Hippocrates (cameo)
Zach Galifianakis (cameo)
Eleanor Roosevelt (cameo)
Edith Roosevelt (cameo)
References