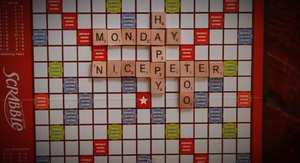 The Monday Show is Nice Peter's (typically) weekly show/vlog on his second channel, NicePeterToo, which delivers news about the Epic Rap Battles, tours and his other projects. Sometimes hints to upcoming battles are shown. In one episode of the Monday Show, Nice Peter covered one of Queen's songs, indicating Frank Sinatra vs Freddie Mercury, while in another episode, Mike Diva was seen getting his Bruce Lee haircut, hinting at Bruce Lee vs Clint Eastwood. As of September 8th, 2014, the show went on an indefinite hiatus. He has released other videos titled the Monday Show, but intermittently and not to a set schedule.
Parts of The Monday Show
The Monday Show may contain some of the following segments:
Viewer mail: Nice Peter opens packages and letters from fans.
Twitter question time: He takes questions from Twitter and answers them.
Twitter songs: He asks for ideas for songs on Twitter.
Slow-motion clip of the day: He takes a funny clip and puts it in slow-motion.
Ending song: The show usually ends with him singing a song we wrote, often accompanied with his guitar (e.g. The Munchlax Song).
A Moment with Charlie (retired due to the passing of Charlie): He ran different clips of him with his dog, Charlie, while playing a short song about him and that "he sleeps and poops." 
Ask A Giraffe: Peter asks a question to a plush toy giraffe and the giraffe, in a squeaky voice, gives an odd answer.
Chicken News: He talks about news that relates to chickens (only seen once).
Gallery
Community content is available under
CC-BY-SA
unless otherwise noted.