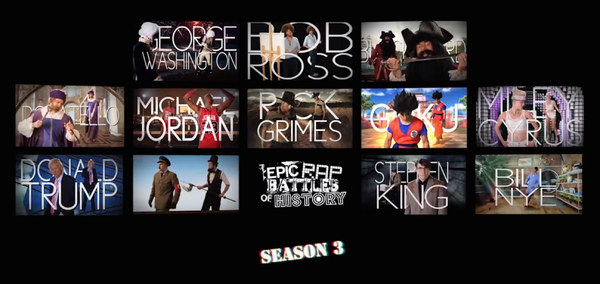 Season 3 is the third season of Epic Rap Battles of History. It consisted of twelve rap battles, uploaded from October 7th, 2013, to July 14th, 2014. The Season 3 polls are located here.
Rap battles
Cast and guests
Rappers
Cameos
Nice Peter (34, 36, 37 (reused footage), 41, 45 (reused footage))
EpicLLOYD (34 (reused footage), 36, 41 (voice only), 43 (reused footage), 45 (reused footage))
Jesse Wellens (reused footage) (34)
KassemG (34)
Morgan Christensen (34)
Atul Singh (body double) (34)
Brian Neunhoffer (body double) (34)
George Watsky (reused footage) (34, 37)
Dante Cimadamore (35)
Shaun Lewin (35)
Yev Belilovskiy (35)
Bryce Wissel (35)
Donnie Davis (35)
Xin Wuku (35, 45 (stunt double))
Bob the dog (37)
Colin J. Sweeney (reused footage) (37)
Kai and Naya Berman (39)
Neil Blan (40)
Amy Bury (40)
Ray Timmons (40)
Tom Walsh (40)
Jack Zullo (44)
Mike Elder (44)
Jeff MacKinnon (44)
Reynaldo Garnica (44)
Seth Brown (44)
Joey Greer (44)
Season 3 CD
Main article: Epic Rap Battles of History Season 3 CD
Trailer
Trivia
During the first half of the season (34-39), the outro used a semi-3D layout with links to related media, such as "Song Now on iTunes" and social media pages of guest rappers, shown in six different rotating screens. This was reverted in favor of the 2D layout they had starting with the second half of Season 3.
After Donald Trump vs Ebenezer Scrooge, battles no longer received ERB Karaoke videos until Season 6 where Guy Fawkes vs Che Guevara and Elon Musk vs Mark Zuckerberg received karaoke videos.
This is the second season to not have any third-party rappers, after Season 1.
This season has the least rappers that are physically portrayed by Nice Peter.