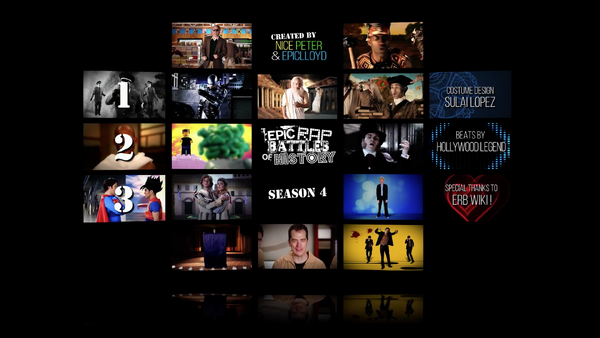 Season 4 is the fourth season of Epic Rap Battles of History. Pre-production began in August 2014 after Nice Peter returned from his summer tour. This season consists of twelve battles, one being released every Monday for the first half of the season, and every other Monday for the second half of the season. It premiered on November 10th, 2014, and concluded on August 3rd, 2015. The Season 4 polls are located here.
Rap battles
Cast and guests
Rappers
Cameos
Dodger (46)
Taylor Cu (body double) (46)
David Thornhill Jr. (49)
Atul Singh (50)
Nice Peter (50 (voice only))
EpicLLOYD (50, 56)
Michelle Maloney (52)
Mike Betette (52)
Sam Macaroni (52)
Josie Ahlquist (53)
Tony Clark (53)
Dante Cimadamore (53)
Lauren Francesca (53)
Klarity (56)
Mary Doodles (57)
Other
Forrest Whaley (48, 54)
Sean Willets (48)
Zach Macias (48)
Season 4 CD
Main article: Epic Rap Battles of History Season 4 CD
Trailer
Trivia
This is the first season to have:

guest rappers as title characters in the premiere.
Zach Sherwin in both the premiere and finale.
at least one specific location in every battle.

This is the first season to not have:

a holiday-themed battle.
Nice Peter as the last rapper of the season finale.
any ERB Karaoke videos since season 1.
a United States President as a rapper.
a non-fictional musician or a musical artist as a title rapper.
a battle that is less than two minutes.

This season is tied with season 5 for having the most female rappers, at five.
This season has the most team battles, at four.
This was the last season in an unofficial deal Nice Peter made with a higher-up member of Maker Studios (now Disney Digital).