Joe is the name. Welcome to my page. I write raps and talk to people. It's why I'm here (As well as for some great friends). (That took ages to write btw)
About Me
My name is Joe. I'm 20 years of age. I was diagnosed with Asperger's syndrome aged 6. I am very antisocial and spend most of my time on the internet. We have a running joke in my family of me not surviving without wifi. I live in the idyllic English county of Yorkshire. I'm English yet get called a Slovenian immigrant as it is often where I spend my holidays.

I have very....niche music taste (non-existent). I mostly listen to old punk bands as that is what my dad listens to in the car. I do love ERB tho and am partial to They Might Be Giants. My favourite songs are Istanbul (Not Constantinople) and Birdhouse In Your Soul. My favourite Rap Battle is George Washington vs William Wallace.
I can grow very attached to individuals who are nice to me
Friends
The people I like, in varying degrees :P

Knows his stuff. Even if he supports Chelsea.
Old Friends
People that I counted as friends, prior to them leaving the wiki.
My Battles

People to thank for helping with battles

User:MetalFire (As Ezio Auditore and Edward Kenway in Ezio Auditore vs Jango Fett)
User:Tkid115 (As Link in Mario vs Link and Aquaman in Percy Jackson vs Aquaman)
User:J1coupe (As Ness in Mario vs Link)
User:ProbablyNoah (As Hannibal Lecter in Hannibal Lecter vs Sherlock Holmes and Gamzee Makara in The Joker vs Gamzee Makara and Dipper and Mabel in Sam and Dean vs Dipper and Mabel
User:BreZ (As Hiccup in Dany vs Hiccup)
User:Iamthelegion (As Wolverine in Wolverine vs Freddy Krueger)
My Writing
This is the list of serieses that I have written. I would reccommend sticking to reading Wiki, Ten Hated Wikians, and Wiki: Apocalypse, as the others are ones written a long time ago, and may never be finished.
Me on the Wiki
If I could sum up my time on here in one word it would be....controversial. I've been involved in my fair share of disputes, though often it's me being misunderstood (eg the Reson event) or me sticking up for the wrong person (eg Devil).
My happiest days on here? Finally getting my lucky badge :P Nah most days here are cool, there's some great people on this site that can quite often make my day *cough* NikkiTrent&Fire *cough*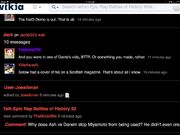 Edits of Joeaikman on the ERB Wiki

Total:

20,763

Article:

1,383

Talk:

8,761

User:

317

Project:

0

File:

44

Template:

93

Category:

1

Forum:

0

User blog:

820

User blog comment:

7,055
My Suggestions
Horus vs Hercules (Sons of gods who were mistreated but were called upon to save the gods)
Herge vs Vincent Van Gogh (Controversial artists, Belgium vs Netherlands)
Lewis Carroll vs CS Lewis (Writers of fictional universes where animals can talk, both used the name Lewis as a pen name)
Edmund Hilary vs Scott of the Antarctic (Explorers of barren and cold areas that were previously unexplored)
Ron Burgundy vs Charlie Brooker (Newsreader who tries to make the news less serious vs satirist who makes the news more serious)
Noah vs Odysseus (Sailor chosen by God vs sailor hated by gods)
Hercule Poirot vs Tinin (Prolific Belgian detectives)
Roald Dahl vs Terry Pratchett ft Neil Gaiman (Fantasy writers who created stories aimed at adults and children)
Copernicus vs Galileo (Observers of the universe who had to keep their findings quiet to avoid religious persecution)
Daniel O'Connell vs St Patrick (Religious men who fought peacefully for the Irish people)
William Ewart Gladstone vs William Wilberforce (british William's who fought in favour of oppressed peoples, the Irish and slaves respectively)
Ezio vs Brutus (Assassins from Italian regions who are most well known by one name)
Roger Federer vs David Beckham (Incredibly successful and rich sportsmen who earn a lot of money through advertsing)
Godzilla vs Harry Truman (Devestators of Japan)
Gary Casparov vs Phil 'the Power' Taylor (Champions of two relaxed sports)
Richard Branson vs Mark Zuckerberg (Entrepeneurs who dropped out of school)
Adam vs Yuri Gargarin (First man on earth vs First man off it)
Jon Snow vs Shaka Zulu (Bastard warrior leaders who unite warring tribes against larger threats, before being killed off by their brothers.)
David Bowie vs Oscar Wilde (Flamboyant British lyricists who spent much of their careers in a form of exile and, throughout their careers, endured mass speculation about homosexuality)
Rodrigo Borgia vs George W Bush (Members of familial 'dynasties' in roles that are specifically not meant to be held by dynasties. They both allegedly bought their way into elected roles as heads of the free world.)
'Jon Snow vs Harry Potter ('Chosen one' figures that fight a faceless, magical and immortal threat. Both lose their parents at an early age, before being adopted in by their uncles. They both befriend a book smart individual that others scorn, and go on to begin taboo relationships with red headed women. Both end up being killed, only to return to life as their true purpose had yet to be finished.)
People not in my suggestions who should be in ERB
Historical
Copernicus
Atilla the Hun
Winston Churchill
Benito Mussolini
Rodrigo Borgia
Mark Twain
Pele
Karl Marx & Friedrich Engels
Ho Chi Minh
Caligula
Charlie Chaplin
Jane Austen
Emperor Nero

Modern
One Direction
Bill Clinton
Matt Groening
Tony Blair
Morgan Freeman
Will Smith
Johnny Depp
Shigeru Miyamoto
Michael Schumacher
JK Rowling
Leonardo DiCaprio

Fictional
Link
Slenderman
King Arthur
Robin Hood
Tintin
Asterix the Gaul
Ash Ketchum
Yugi Moto/Yami
Rocky Balboa
Flash Gordon
My favourite ERB rappers
Community content is available under
CC-BY-SA
unless otherwise noted.