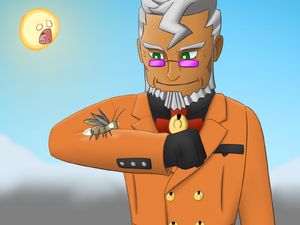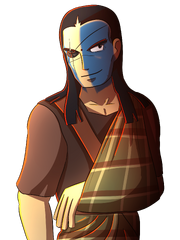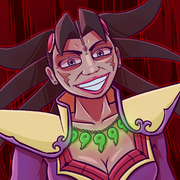 welcome everyone, enjoy your stay and have a wonderful time.
Hello everyone MCdamon23 here. I've been an Erb fan for quite some time and even visited a few times, but I finally decided to get one. I'm also a big fan of the Ace Attorney francise if you couldn't tell from my icon. I hope to have a wonderful time here on this wiki and have some fun. Here are a few of my personal favourite suggestions.
Phoenix Wright vs Atticus Finch( Being a big ace attorney fan I want Phoenix Wright in a battle and Atticus Finch is his best opponent)
Atticus Finch vs Saul Goodman(A great alternative for Finch vs Wright since that one doesn't seem likely to happen and Saul Goodman got a very entertaining personality that would be great for an erb.)
Conan O'brian vs Conan the barbarian( Probably the only name vs name battle that I like).
Willie Wonka vs Mary Poppins(It's a very interesting and unique suggestion and I'd really like to see Wonka & Poppins in a battle, so that makes it even better).
Shigeru Miyamoto vs Hayao Miyazaki(a great connection that could be the best battle if done correctly. Also I really want to see Miyamoto in a battle)
There are more great suggestions, but these are my favourites out of them. Some of my favourite movies are The wolf on Wallstreet, The Imitation Game, Amadeus and Goldfinger. Some of my favourite games are the Ace attorney games( they are all to good to pick just one of them), Fire emblem Awakening, Smash bros Ultimate, the Mario kart games(ds,wii and 7) and Majora's Mask 3ds just to name a few.
my favourite ERB's in no particular order are:
Zulu vs Caesar( Some of the greatest lines in any battle and a wonderful Caesar portrayal by Nicepeter).
East vs west( Nietzche was fantastic and it has a nice twist at the end making it stand out).
Tesla vs Edison( My favourite season 2 battle, because of the fun portrayals, lines and how catchy it is to listen to that makes it stand out from the rest of season 2).
Director royale( A hilarious ending and great portrayals, except for Kubrick who was ok at best).
Hannibal Lecter vs Jack the Ripper(Love Lloyd as Hannibal Lecter in this. The beat is thrilling and Dan Bull is a lot of fun as Jack the ripper and has some lovely rhyme schemes. The overall atmosphere just sells the battle as well).
Poe vs King( some really great lines from both rappers and both with great portrayals).
Bond vs Powers( The best battle of season 5 easily, LLoyd made a perfect Connery Bond, Peter as Austin Powers was hilarious and the battle of the bonds was truly an epic end)
Ivan vs Alexander( A very fun and unique battle with a very enjoyable Ivan performance by Peter)
Roosevelt vs Churchill( LLoyd as Roosevelt is one of his best roles, the beat is super fun and Dan Bull is always a joy to listen to. It also has some of my favorite lyrics of them all)
Romeo and Juliet vs Bonnie and Clyde(That whole ending is absolutely great and the lines and performances are so much fun. The teams worked of well with eachother and definitly makes it one of the best team battles in erb).
Zeus vs Thor(great writing, great portrayals and the lego visuals makes it the most refreshing and great looking battles they've done.)
Ramsay vs Child( The beat is one of the best of the series, Mamrie made an outstanding Julia Child and Lloyd really did a great job as Ramsay as well. I also really like the Blue team cameo
Just to name a few. My favourite ERB season is season 4 and the best Erb rapper is Connery Bond, Ivan The terrible and Julia Child.
I also draw some time. Some of my work can be find on my Deviantart page.
Series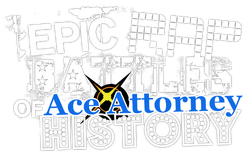 I also have a rap battles series called epic rap battles of Ace Attorney vs History(self-explanatory what it's about), but I want some opponents for some of them. Characters in need of opponents:
Maggey Byrde
Will Powers
Frank Sahwit
Sebastian Debeste
Patricia Roland
Richard Wellington
Klavier Gavin
Apollo Justice
Marvin Grossberg
Wendy Oldbag
Lotta Hart
Mike Meekins
Terry Fawles
Rayfa
Calisto Yew
Cammy Meele
Raymond Shields
Tahrust and Behleeb Inmee
Inga Karkhuul Khura'in
Sorin Sprocket and Ellen Wyatt
Pierce Nichody
Shi-Long Lang
Alita Tiala
Lamiroir
Machi Tobaye
Daryan Crescend
Vera/Drew Misham
Valant Gramarye
Espella Cantabella
The Storyteller
Darklaw
Zacharius Barnham
Next to that I also have a side series called Epic rap battles for your amusement where I do suggestions that I like. There's no order and planning in the battles, no hints system and no seasons. basically it's just one-offs under a name.
Hopefully these battle will entertain you and maybe motivate you to continue/start work on battles of your own. I'll be looking forward to read them and critique them. If you need me for something or want to talk, I'm on both Skype and Discord. See you later and have a nice day. :)
Epic Rap Battles for your amusement
battles
• • • • • • • • • • •



Community content is available under
CC-BY-SA
unless otherwise noted.