Hey guys this is my first rap battle, so constructive critisism is needed. v Beat for this battle. v
‎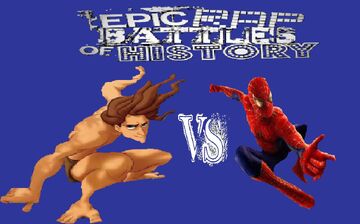 Cast
Weird Al Yankovic as Tarzan
Nice Peter as Spider-Man
Epic Lloyd as George from George of the Jungle (cameo)
Lyrics
The announcer:
EPIC RAP BATTLES OF HISTORY!
TARZAN!
VS!
SPIDER-MAN!
BEGIN!
Tarzan:
Come on Spidey, you want to rap against me?
I was born in the jungle, you were raised by your aunt and uncle, so you might as well leave,
Such a disgrace, when you killed your own father,
You only became Spider-Man just from being bit by a spider, so why even bother?
You can climb on walls and can shoot webs, well that's nice,
NOT! People say that you're the greatest hero ever! Ah well that's a lie.
Spider-Man:
Why are you challenging me to a battle?
You're telling me to leave already? This battle has just started, and you're the one that should skeddadle,
I'm gonna win this battle just like I do in all of my comics and movies,
All of your movies suck ass, and I feel bad for Disney,
I was created by the wonderful and legendary, Stan Lee,
So now, there's no way, that you could beat me,
Just face it, Tarzan, you're a ripoff of George of the Jungle, but just a little dumber,
Your parents died, when you were only an infant, aww bummer!
Tarzan:
Ha! You think your terrible raps are gonna sting me?
Well they don't, because you suck at rapping, nothing compared to me,
Can't you see? Why don't you use your webs and fly out of here?
Because you just lost, and I won, now you shall disappear.
Spider-Man:
Oh I'm not going anywhere yet, not until I'm done dissing you,
Why don't you put some clothes on, for fucks sake, you naked tool?
I suggest you now swing your ass out of here, by using a vine,
I'm out and I'm never coming back, but victory is still mine.
The announcer:
WHO WON!
WHO'S NEXT!
YOU DECIDE!
EPIC RAP BATTLES OF HISTORY!
Note: I know this battle sucked, but this was my first one, so yeah...
Title cards (special thanks for Damaster for making them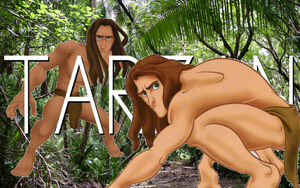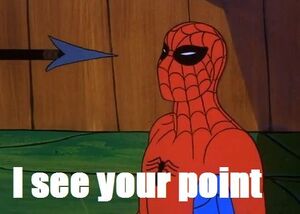 Community content is available under
CC-BY-SA
unless otherwise noted.